Living Albright
Regular price
Sale price
$40.00 USD
Unit price
per
Sale
Sold out
An affordable and fun way to test our core collection before you buy! These also make the cutest gifts. You will receive a 2 ounce tin of each scent you select. Choose 6 scents then add to cart!

Afterglow: This lively scent combines tropical fruits, citrus, and bursting greenery. This fragrance was inspired by the Capri Blue® scent. Scent notes: citrus, lemon, + grapefruit.
Blue Kelp: The meditating notes of salt and blue sea kelp takes us to snorkeling on the coast and enjoying the underwater world. Light this one and let the ocean water notes bring tranquility and clear your mind. Scent notes: Green mandarin, blue sea kelp, + clary sage.

Upscale: Green tea combined with ginger create a luxe hotel vibe. This one will take you to your favorite night out or date night in at your favorite staycation. Scent notes: green tea, lemon zest, + ginger.

Purple Haze: Our nostalgic sweet and herbal scent. The perfect self care candle. Light it bed-side or draw a bath and relax. Let the notes of coconut water and lavender haze relax your mind after a long day. Scent notes: coconut water, French lavender, + vanilla.

Seashell: This scent takes us to warm sand, crushed sea shells, and listening to the crashing waves on the shore. The salty notes combined with sweet tonka bean will take you back to serene beach days. Scent notes: Ocean mist, tonka bean, + coconut water.

Arizona Sunset: Our original scent and #1 best seller since creating Living Albright. It's infused with juicy raspberry, bright orange, and pineapple with lush red wine. This scent takes us to warm nights outside near our colorful skies. Scent notes: raspberry, orange, pineapple, + red wine.
Arizona Citrus: Our most unique citrus scent ever created during our candle making years. Juicy citrus and peach combined with sweet birch that can brighten any mood when lit. Our favorite to burn during late game nights with friends or a pick-me-up after a busy day. Scent notes: tangerine, peach, + birch.

Arizona Desert: This elegant scent is the perfect balance of floral and sweet with a hint of musk. Inspired by Arizona's beautiful cactus flowers. Scent notes: floral, musk, sandalwood.
Golden Hour: Inspired by our love for the magical time of day before sunrise and after sunset when the earth is infused by a soft, warm glow. There is something so special about the setting and rising of the sun and the brightness and warmth it gives. Scent notes: warm honey, sugary vanilla, + juicy peach.
Lux Coconut Apricot Blend

Our wax is clean burning, biodegradable and natural. It is also renewable, vegan and non-toxic.
Non Toxic

The fragrances we use exclude cancer-causing and similar ingredients. Our scents are free from phthalate, carcinogens, reproductive toxins, and other potentially hazardous chemicals often found in fragrance.
Hand Poured

All of our candles are hand-poured in Arizona. Everything is made in small batches to ensure the highest quality. 
Click here for FAQ
View full details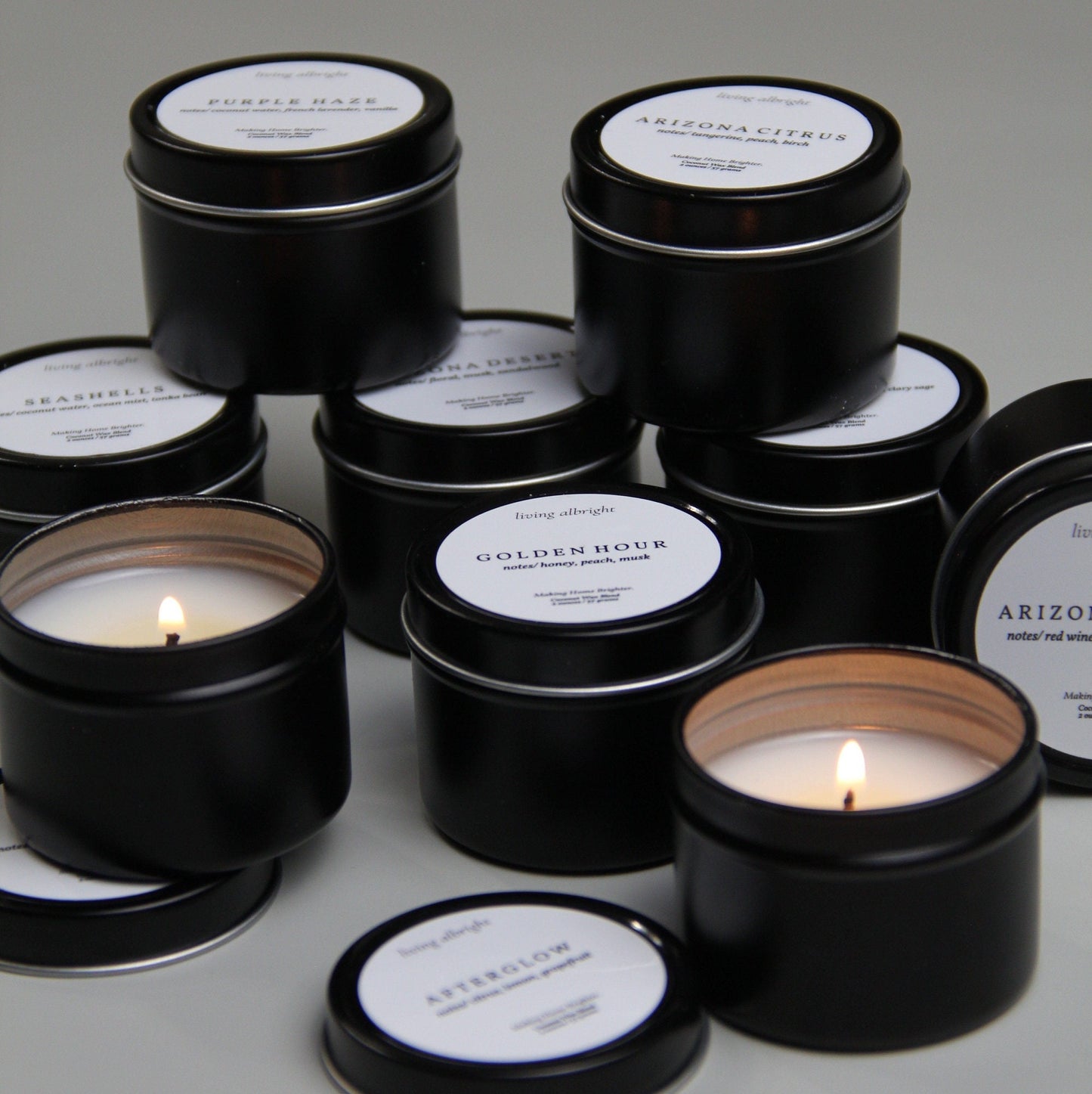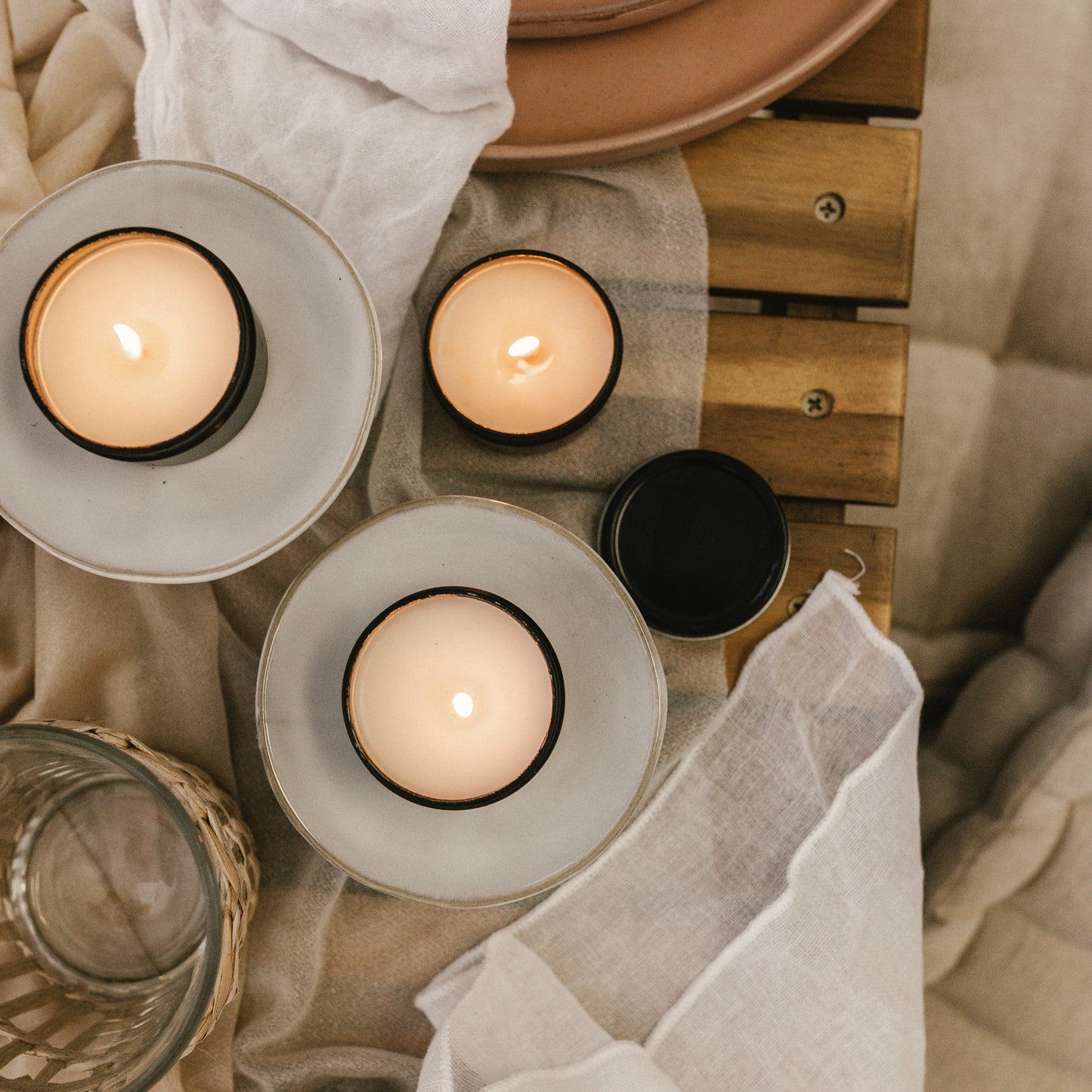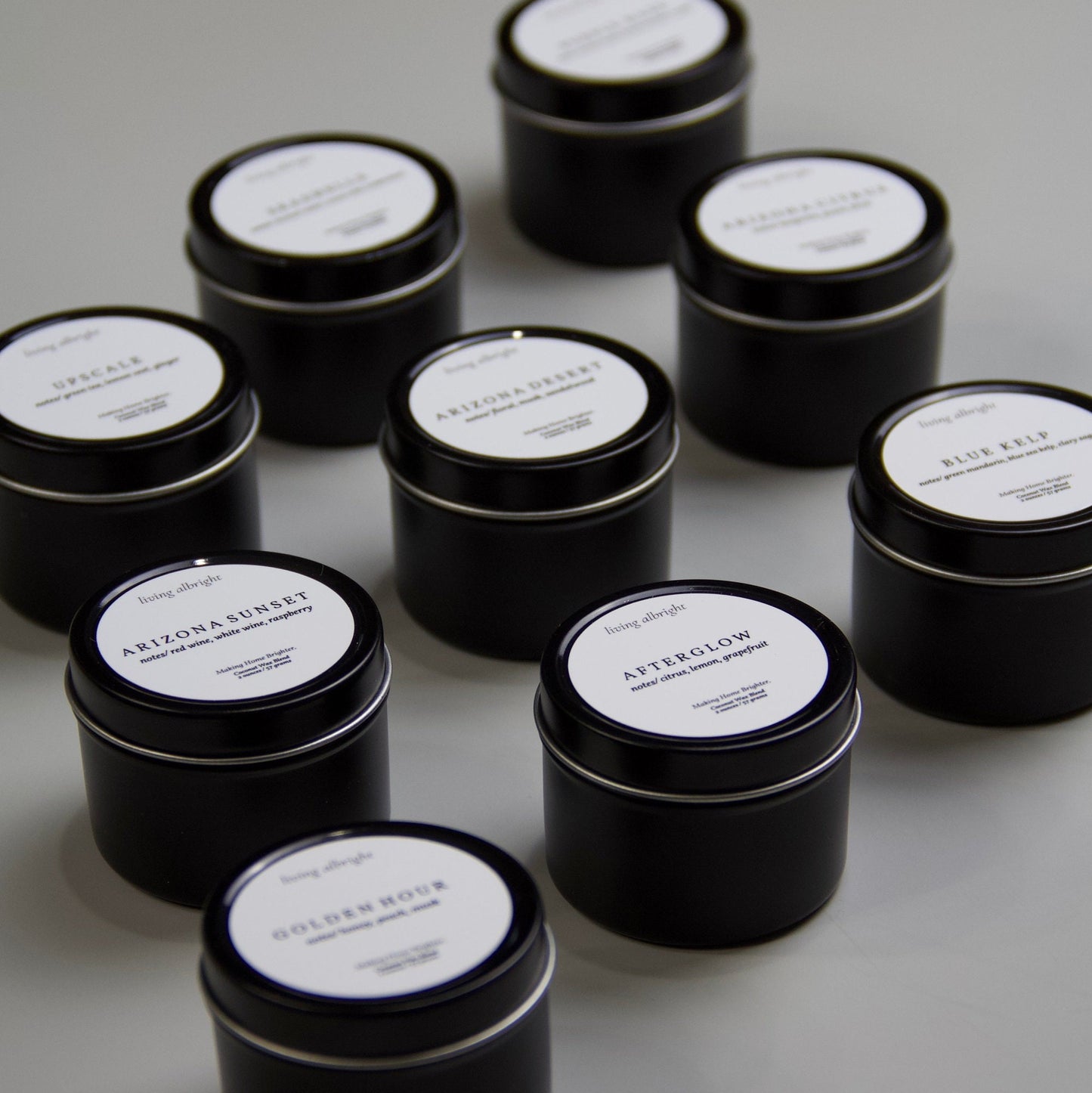 Fun & unique candles
Loved these candles and the cute containers. The sample bundle has lots of different aromas.
Great product!
I love them all! The smell is surprisingly strong for such a small candle, my whole living room was smelling fresh and yum within just a few minutes.
THE BEST throw you can find!
These candles are so fragrant! They fill the entire room without even being lit. And the scents are scrumptious! I've yet to find a scent I don't like & I've purchased a dozen different ones! My favorite & only candles I buy are Living Albright.